2-way full-bore three piece stainless steel precision casted ball valve
352 SAE / 352 GAE
2-way full-bore three piece stainless steel precision casted ball valve
Threaded-ends, with SR pneumatic actuator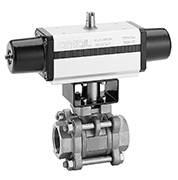 ---
Dimensions / Dimensions
Rp
F
ØP
A
B
C
D
E
ØG
H
kg
mm
mm
mm
mm
mm
mm
mm
mm
mm
mm
10
3/8"
12,60
221
55
60
20
60
42
119
1,90
15
1/2"
16,00
211
55
60
20
71
42
119
1,90
20
3/4"
20,00
240
65
70
20
85
53
160
3,00
25
1"
25,00
240
65
70
20
95
60
139
3,20
32
1 1/4"
32,00
294
72
78
20
112
72
182
4,50
40
1 1/2"
38,10
320
80
86
30
123
81
180
6,10
50
2"
50,80
357
90
96
30
140
100
235
9,50
65
2 1/2"
65,00
395
100
106
30
173
127
232
16,10
80
3"
80,00
436
112
118
30
192
190
279
24,10
100
4"
100
487
124
13
30
226
220
286
36,30
Werkstoffe des Kugelhahns/

Valve Materials

1
Welle/Shaft
AISI 316
1.4401
UNI X5CrNiMo 17 12
2
Stoffbuchse/Gland
AISI 304
1.4301
UNI X5CrNi 18 10
3
Obere Abdichtung/Upper seal
P.T.F.E.
4
Untere Abdichtung/Lower seal
P.T.F.E.
5
Muffenabdichtungen/Sleeve socket plugs
P.T.F.E.
6
Seitliche Abdichtung/Lateral seal
P.T.F.E.
7
Mutter/Nut
AISI 304
1.4301
UNI X5CrNi 18 10
8
Schrauben/Screws
AISI 304
1.4301
UNI X5CrNi 18 10
9
Kugel/Ball
AISI 316
1.4401
UNI X5CrNiMo 17 12
10
Gehäuse/Housing
AISI 316
1.4408
11
Muffen/Sleeve sockets
AISI 316
1.4408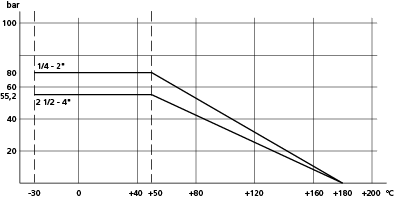 Actuator features:
Rotation angle: 90°.
Temperature: from 0°C to +80°C; from -20°C to +80°C with dry air only.
Air supply: 5,6 bar; maximum working supply 8,4 bar.
Operating media: dry filtered air, not necesary lubricated. In case of lubricated air, either non detergent oil or NBR-compatible oil must be used. Automatic closing in a clockwise direction.
Valve features
Manufactured in three pieces to facilitate interventions on plants which requires frequent maintenance.
Ends: 352 GAE female threads as per UNI/ISO 7/1 Rp; 352 SAE, socket welding or butt welding.
Working temperature: from -30°C to +180°C
Working pressure: see diagram.
Fluid range: air, water, gas, petroliferous and petrochemical products, aggressive media.
NOTE: valves are mounted in normally closed position; please specify, if other position are required.