2-way stainless steel flat body flnged stainless steel ball valve
352 FA
2-way stainless steel flat body flnged stainless steel ball valve
Full bore with DA pneumatic actuator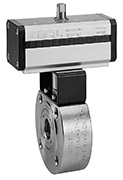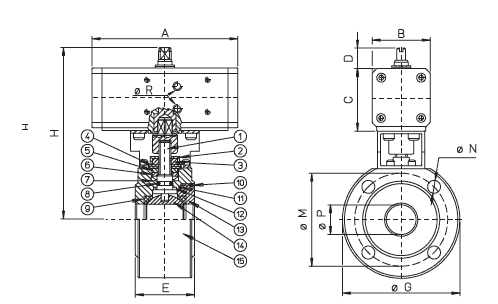 ---
Dimensions / Dimensions
Rp
F
ØP
A
B
C
D
E
ØG
ØM
ØN*
ØR
H
mm
mm
mm
mm
mm
mm
mm
mm
mm
mm
mm
Gas
mm
kg
15
DN 15
15
114
48
52
20
35
90
65
M12/4
1/8"
143,00
2,23
20
DN 20
20
130
55
60
20
38
100
75
M12/4
1/8"
154,00
3,00
25
DN 25
25
130
55
60
20
42
110
85
M12/4
1/8"
159,50
3,65
32
DN 32
32
144
60
66
20
50
130
100
M16/4
1,8"
172,00
5,40
40
DN 40
40
152
65
70
20
60
140
110
M16/4
1/8"
180,00
7,11
50
DN 50
50
169
72
78
20
70
165
125
M16/4
1/8"
195,00
7,35
65
DN 65
65
184
80
86
30
95
185
145
M12/4
1/8"
245,00
12,90
80
DN 80
80
212
90
96
30
118
200
160
M16/8
1/8"
265,00
16,50
100
DN 100
100
264
112
118
30
140
220
180
M16/8
1(8"
329,00
28,00
125
DN 125
125
295
124
130
30
175
250
210
M16/8
1/8"
354,00
40,00
150
DN 150
150
384
145
153
30
210
300
240
M20/8
1/4"
406,00
68,50
Werkstoffe des Kugelhahns/

Valve Materials

1
Welle/Shaft
AISI 316
1.4401
UNI X5CrNiMo 17 12
2
Mutterbefestigungsscheibe/Nut shim
AISI 304
1.4301
UNI X5CrNi 18 10
3
Befestigungsmutter/Securing nut
AISI 304
1.4301
UNI X5CrNi 18 10
4
Federteller/Spring washer
AISI 301
1.4310
UNI X12CrNi 17 07
5
Distanzring/Spacer
AISI 304
1.4301
UNI X5CrNi 18 10
6
Stoffbuchse/Gland
AISI 304
1.4301
UNI X5CrNi 18 10
7
Obere Abdichtung/Upper seal
P.T.F.E.
8
O-Ring für mittlere Abdichtung/
O-ring for central viton seal
Viton
9
Seitliche Abdichtung/Lateral seal
P.T.F.E.
10
O-Ring für Ring Abdichtung/
O-ring for viton ring seal
Viton
11
Ring Abdichtung/Ring seal
P.T.F.E.
12
Untere Abdichtung/Lower seal
P.T.F.E.
13
Ring*/Ring*
AISI 316
1.4401
UNI X5CrNiMo 17 12
14
Kugel*/Ball*
AISI 316
1.4401
UNI X5CrNiMo 17 12
15
Gehäuse*/Housing*
AISI 316
1.4408
Actuator features
Rotation angle: 90°.
Temperature: from 0°C to +80°C; from -20°C to +80°C with dry air only.
Air supply: 5,6 bar; maximum working supply 8,4 bar.
Operating media: dry filtered air, not necessary lubricated. In case of lubricated air, either non detergent oil or NBR-compatible oil must be used.
Valve features
Flanges: as per NI 2223 and 2229 PN 16,
DIN 2501 Bl.1
General specifivcations: BS 5351 "Fire safe" conforming to BS 6755
Working temperature: from -20°C to +150°C.
Working pressure: PN 16; PN 25 and PN40 on request
Fluid range: air, water, gas, petrolierous and petrochemical products, aggressive media.
Valves with heating jeckets are available on request.